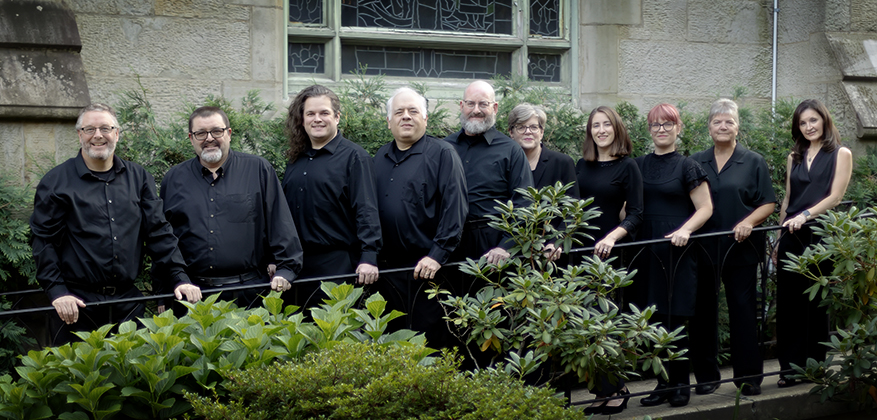 The Lyric Consort maintains an extensive repertoire of individual a cappella works and program groupings, and can work with presenters to create new combinations of existing repertoire or to explore new programmatic concepts. The following general categories are offered to provide a picture of The Lyric Consort's overall repertoire. The individual titles are examples of that category and, in most cases, represent only a portion of the available music.
Sacred Music of the Middle Ages
Gregorian Chant:
Various types and styles, including examples of troping (Medieval practice of embellishing pure chant through textual, melodic, or harmonic improvisation).
The Play of Herod:
A condensed view (30′) of the Christmas pageant as found in the Fleury Play Book, depicting the journey of the Magi, Herod's plot and slaughter of the Innocents, and their joining of the Heavenly Host. Incorporates hand bells and percussion.
Early Polyphony:
Notre-Dame style organum of Leonin and Perotin, Polyphonic Conductus, and English Descant.
Music at the Edge of the Renaissance:
Guillaume de Machaut–Messe de Nostre Dame
John Dunstable–Veni sancte spiritus/Veni creator
Guillaume Dufay–Nuper rosarum flores
Secular Music of Renaissance Italy, Spain, France, Germany, and England
Humorous or bawdy story songs:
Orlande de Lassus–Il estoit une religieuse, O vin en vigne
John Farmer–Fair Phyllis, A Pretty Little Bonny Lass
Music imitating the sounds of animals, nature, and war:
Josquin Desprez–El grillo (Cricket)
Pierre Passereau–Il est bel et bon (Chicken)
Giuseppe Caimo–Mentre il cuculo (Cukoo)
Clement Janequin–Song of the Birds (Chant des Oiseaux), The War (La Guerre)
Matteo Flecha–The Shipwreck (La Bomba), Judgement Day (La Justa)
Expressionist works of love and sorrow:
Hans Leo Hassler–Ach weh des Leiden
Claudio Monteverdi–Cruda Amarilli, Lamento d'Arianna
Orlande de Lassus–La nuit froide et sombre
Thomas Weelkes–Cease Now Delight
Sacred Music of the 15th and 16th Century European Masters
Guillaume Dufay–Ave regina caelorum
Johannes Ockeghem–Missa De plus en plus
Josquin Desprez–Memor esto, Missa Pange Lingua
Clemens non Papa–De profundis
Cristobal de Morales–Missa Desilde al caballero
Victoria–O Magnum mysterium, Magnificat secundi toni, Surrrexit pastor bonus
Palestrina–Missa Omnes gentes, Sicut cervus, Alma redemptoris mater
William Byrd–Justorum animae, Mass for Four Voices, Viri gallilei, Epiphany Propers
Orlande de Lassus–In monte oliveti, Penetential Psalms, Lagrime de San Pietro
Sweelinck–Psalm 150, Hodie Christus natus est
Hans Leo Hassler–Missa Secunda, Cantate Domino
Sacred Music of New Spain
Juan Guttierez de Padilla–Missa Ego flos campi, Deus in adjutorium
Manuel de Sumaya–Lamentations, Egregie Doctor
Antonio de Salazar–Egregie Doctor, Defensor alme hispaniae
Selected Examples of the Renaissance a cappella adapted to the musical styles of the Baroque and Classical Period
J. S. Bach–Lobet den Herrn, Ich lasse dich nicht
Johann Michael Bach–Herr, ich warte auf dein Heil
Johann Hermann Schein–Die mit Tranen saen
Mozart–Quaerite primum regnum Dei
Music of Colonial America
Music from Pennsylvania's earliest published collection of sacred music, James Lyon's Urania
(Philadelphia, 1761), including music of James Lyon and Francis Hopkinson.
Music of William Billlings and the New England School.
Music of their European antecedents and the Protestant Reformation.
Motets, Anthems, and Part-Songs of the Nineteenth Century
Johannes Brahms–Marienlieder
Anton Bruckner–Ave Maria
Charles Villiers Stanford–The Bluebird
Robert Pearsall–Lay A Garland
Edward Bairstow–I Sat Down Under His Shadow
Claude Debussy–Chansons
Contemporary Sacred and Secular Music of the United States, Canada, Europe, and South America
John Tavener–A Village Wedding, The Lamb
Jean Belmont–Nativitas
Arvo Part–Magnificat
Frank Ferko–Hildegard Motets
Hugo Distler–Singet frisch und wohlgemut
Herbert Howells–Take Him Earth For Cherishing (Anthem on the death of J.F.K.)
Stephen Sametz–I Have Had Singing
Murray Schaeffer–Medieval Bestiary
Biebl–Ave Mari
Vocal Jazz, Spirituals, Barbershop, DooWop, and Oddities
A Nightingale Sang in Berkeley Square, Embraceable You, When I Fall In Love
Swing Low, Deep River, Elijah Rock
arr. Alan Baker–My Old Man, Whistle 'Neath The Mistletoe
Britten–Hymn to the Virgin, The Evening Primrose
John Biggs–Auction Cries
P.D.Q. Bach–Ground Round, Carols
The Music of Matthew Herman, Composer in Residence
a field afar. . .
What if a Much of a Which of a Wind